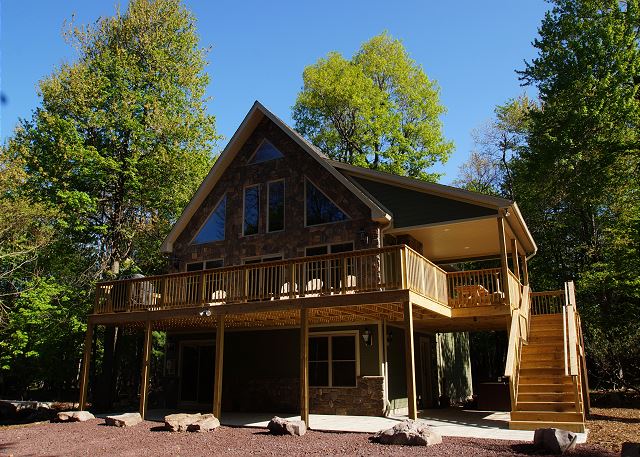 Alicia Kowalik, REALTOR® - Lake Wallenpaupack Homes for Sale & Real Estate - Call Today! (570) 470-5076
With all the excitement of buying a new home, sometimes buyers forget some of the most important steps in ensuring that the home they are considering is really the home they want. Before you begin looking Lake Wallenpaupack homes for sale, you may want to consider these 5 steps to take before Buying a Lake Wallenpaupack home:

GET CLEAR ABOUT YOUR "MUST HAVES" VS. YOUR "WANTS"
What's most important in your new home? Privacy? Lakefront? Four bedrooms? Gated community? You will make a much better decision on what home to buy if you focus on your priorities first. Before you begin looking at Lake Wallenpaupack homes for sale, separate the things you truly need from the amenities and features you'd love to have but can live without. Make a list while considering these four categories: features and amenities you need; features and amenities you want; features and amenities you don't want; and deal breakers. If you get clear about the must haves vs the wants, this will refine your home search and speed up the process of finding the home that's right for you. Discuss your requirements in detail with your Lake Wallenpaupack real estate agent, so they can narrow your home search.

GET PRE-APPROVED
By getting pre-approved for a loan, you will ease the buying process and ensure that you are looking at homes for sale in Lake Wallenpaupack within your price range. Pre-approval gives you a dollar amount with which you can safely house hunt without having to go back and get approved. It's effectively your budget for the house hunt. The last thing you want to do is find your "dream home" only to find out later that it is out of your price range. Don't waste your time looking at houses that are out of your financial ballpark. An experienced Lake Wallenpaupack REALTOR® can refer you to one of their preferred lenders with expert guidance to get the lowest rates and terms for you.

HIRE AN EXPERIENCED LAKE WALLENPAUPACK REALTOR®
Whether you are ready to buy your first home or a home that you have always dreamed of owning, you need an experienced Lake Wallenpaupack real estate agent to walk you through the home buying process step by step. Your real estate agent can provide you with helpful information on homes and neighborhoods that isn't readily accessible to the public. Their knowledge of the home buying process, negotiating skills, and familiarity with the local area is invaluable. It also doesn't cost you anything to use a Lake Wallenpaupack REALTOR® when buying a home as they compensated from the commission paid by the seller. Employing the services of an experienced agent to guide you through each step of the buying process is critical to having a smooth and successful transaction.
CONSIDER "OTHER COSTS" OF HOMEOWNERSHIP
You have found the perfect home in the ideal neighborhood or community for your family and you have even determined that you will be able to afford the monthly mortgage payments that will come with this home. What you need to keep in mind is that your monthly mortgage payment is just the start of the costs of homeownership. You also need to consider the other costs when buying a home such as property taxes, homeowners insurance, ongoing repairs and maintenance, moving costs, furniture and decorative Items, utilities, and depending on where you live, homeowners association fees, which all add to the bottom-line costs of homeownership.
GET A HOME INSPECTION
When buying a home in Lake Wallenpaupack, it's important to have a home inspection conducted soon after you are under contract. Home inspections are an instrumental part of the homebuying process that can save you a lot of time and money in the long run. A home may look perfect on the outside, but looks can be deceiving. A private inspector can help uncover deep-rooted problems and potential pitfalls. The inspection should include assessing the condition and remaining lifespan of features such as the foundation, roof, windows, overall energy efficiency, and home systems, such as plumbing, HVAC, and electric. Your Lake Wallenpaupack REALTOR® can help you arrange to have this inspection conducted within a few days of your offer being accepted by the seller. This contingency protects you by giving you a chance to renegotiate your offer or withdraw it without penalty if the inspection reveals significant material damage.
Lake Wallenpaupack PA Homes for Sale

Alicia Kowalik, REALTOR® – Serving Lake Wallenpaupack Buyers & Sellers - Call Today! (570) 470-5076.
Alicia Kowalik is a highly qualified Lake Wallenpaupack real estate agent. She has years of experience and hundreds of satisfied clients can attest to her diligence in representation and care for every single detail. Alicia understands that frequent and open communication is essential to each and every transaction and is readily available to answer any questions a client might have. She makes it a point to get to know her clients on a personal level, which allows her to locate the right home within any development or neighborhood that best matches their personal preferences and needs. Alicia has built solid working relationships with a network of other real estate professionals and can help you secure the most valuable deals. She is highly knowledgeable about the market and is the first to know when new homes come on the market. This ensures that you have access to the most recent listings for Lake Wallenpaupack homes for sale to choose from. Alicia is an expert Lake Wallenpaupack area REALTOR®. Contact her today to begin your search for your new home!

Please give Alicia Kowalik, REALTOR® a call today at (570) 470-5076 or fill out the online contact form, and she will be more than happy to answer any questions you may have!
Alicia Kowalik, REALTOR®
Lakeview Realty Inc.
Wallenpaupack Realty
2449 Route 6
Hawley, PA 18428
Direct: (570) 470-5076