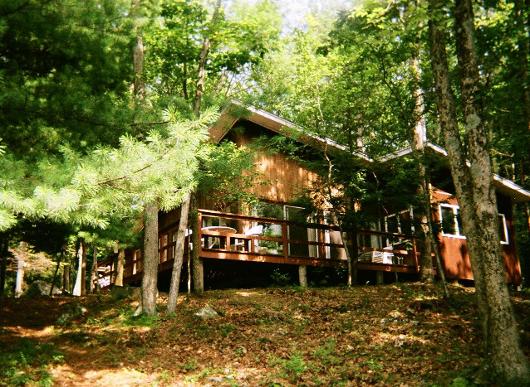 Fawn Lake Forest Homes for Sale Lackawaxen
Welcome to Fawn Lake Forest! -- a residential-recreational community located in the township of Lackawaxen in northeastern Pike County, PA. Fawn Lake Forest is situated north of Route 590 and is located about 10 minutes from Hawley, 15 minutes from Lake Wallenpaupack, and just moments away from Ski Big Bear at Masthope in Lackawaxen. Conveniently located, Fawn Lake Forest is about a 2-hour drive from metro NY & NJ, making it an ideal community for a weekend getaway or vacation home or for year-round living!
Fawn Lakes Forest real estate includes over 800 established and newer homes situated one-third to one-half-acre lots along with 30 miles of paved roads. The median home value in Fawn Lake Forest is around $141,300 and 50% of the homes are used as a secondary residence. The community offers patrolled security 24/7 and is served by the Wallenpaupack School District and the Hawley Post Office. The Zip code for Fawn Lake Forest homes for sale is 18435.
Alicia Kowalik, REALTOR® - Fawn Lake Forest Homes for Sale Lackawaxen - Call Today! (570) 470-5076
The community is situated on two beautiful lakes: Fawn Lake is a 150-acre lake for use with non-powered watercraft -- electric motors, rowboats, paddle boats, canoes, kayaks and pontoon boats are all allowed. Westcolang Lake is a 250-acre glacial lake and one of the few motor boating lakes in the area. Boating, fishing, waterskiing, and swimming are just a few of the leisurely activities you can enjoy on the lake. If you like to fish, both lakes are stocked with bass, pickerel, perch, sunfish, and catfish.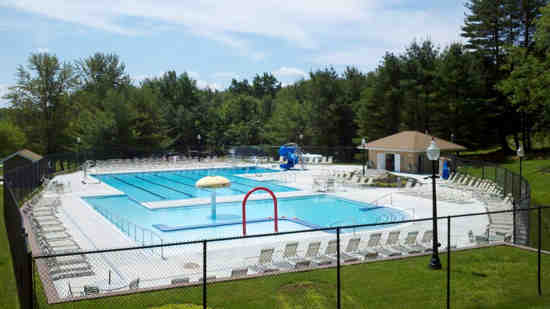 Fawn Lake Forest Resort-style Pool
Homeowners of Fawn Lake Forest enjoy two recreational facilities that offer a vast array of amenities: Fawn Bay Center and Cove Oaks Park. Fawn Bay Center includes the clubhouse that overlooks Fawn Lake. Residents enjoy a heated indoor pool, lounge area, recreation room, arcade, gym, locker rooms, showers, large decks, picnic area, tennis courts, banquet facilities, and boat launch with dock. Cove Oaks Park overlooks Westcolang Lake with a brand new resort-style pool, white sandy beach with picnic grove, boat launch with docks, the Beach House Cafe, paddleball courts, shuffleboard, bocce ball courts, volleyball and basketball courts, and a children's playground.
About Lackawaxen Township
Lackawaxen is the largest and northernmost township in Pennsylvania. Lackawaxen is the Indian word for "The Place Where Two Rivers Meet,' named after the river that flows 12 miles through the township.The Delaware River marks the eastern boundary of the township and joins the Lackawaxen River at Lackawaxen Village. Lackawaxen has a population of around 5,000 people and a total area of 81.2 square miles. A scenic area within the Upper Delaware River National Park, the communities of Masthope Mountain and Fawn Lake Forest are located in Lackawaxen. The area is ideal for those who enjoy historical points of interest and the great outdoors. Situated on the Delaware River, residents of Lackawaxen enjoy kayaking, tubing, and rafting. Read more about Lackawaxen and area amenities...
Nearby Amenities
Nearby Hawley is home to a variety of shops, restaurants, notable lakes, golf courses, and other recreational facilities, making it a popular destination, particularly during the summer months. Learn more about Hawley by reading "Fun Things to Do In & Around Hawley PA - By A Local Realtor®" Lackawaxen is served by the Wallenpaupack Area School District. The nearest full-service hospital is Wayne Memorial Hospital, located about 15 miles away in Honesdale. The closest major airport is Wilkes-Barre/Scranton International Airport, located 55 miles away in Scranton, PA. Another major airport is Stewart International Airport, located about 61 miles away in Newburgh, New York.
If you're interested in Fawn Lake Forest homes for sale Lackawaxen, REALTOR® Alicia Kowalik will be happy to assist you in finding the ideal home or homesite that meets your wants and needs!
New listings frequently come on the market - Don't Miss Out!
Click on the image to receive new listings delivered right to your email!
Alicia Kowalik provides exceptional, personalized service and will work relentlessly to ensure that your home buying or selling experience is a positive and rewarding one. With uncompromising standards of integrity, honesty, and service, Alicia will give you the assurance that your home transaction will be completed promptly, professionally and ethically.
Search Fawn Lake Forest Homes for Sale Lackawaxen
Start your new home search today! Please give Alicia Kowalik, REALTOR® a call today at (570) 470-5076 or fill out the online contact form and she will be delighted to answer any questions you may have!
Alicia Kowalik, REALTOR®
Lakeview Realty Inc.
Wallenpaupack Realty
2449 Route 6
Hawley, PA 18428
Direct: (570) 470-5076