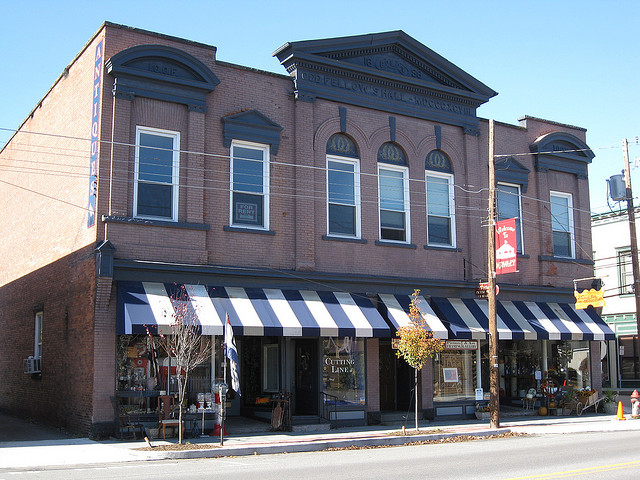 Hi, my name is Alicia Kowalik, REALTOR®, serving Hawley and the Lake Wallenpaupack PA region. I'm also a local resident and I'm often asked what there is to do for fun and entertainment in Hawley and the surrounding area. Hawley sits near the shores of Lake Wallenpaupack. A quaint Main Street is bordered by picturesque Bingham Park on one end and the former Bellemont Silk Mill on the other. Hawley offers a wide array of amenities, interesting things to do, and fun activities for the whole family. From one-of-a-kind boutiques, antique shops, coffee houses, art galleries, fun parks, museums, theater, and depending on the time of year, excellent cross-country and downhill and skiing and winter sports (just to name a few), Hawley and the surrounding area have it all!
Alicia Kowalik, REALTOR® - Serving Hawley PA Real Estate & the Surrounding Lake Wallenpaupack Area - Call Today! (570) 470-5076
Starting with downtown Hawley, you'll find quaint shops offering locally-made and unique gifts, the Hotel Belvidere, a historic landmark in downtown Hawley offering fine dining, and the Ritz Company Playhouse (once a movie and vaudeville theatre), featuring a group of volunteer community theatre enthusiasts - perfect for an evening show!
Hawley PA Homes for Sale and Real Estate
You'll want to be sure to take advantage of Hawley's BikeShare Program. Bikes are available for the entire day for FREE, and can be picked up at Ledges Hotel, Lake Region Fitness at Hawley Silk Mill, AM Skier Insurance or The Settlers Inn. Bikes come complete with helmet, lock, and removable basket for carrying purchases from local shops. Hawley's nifty BikeShare program is intended to get people to come out and see the town, to slow down and enjoy the scenery, and to meet their neighbors!
Hawley also offers interesting walking tours throughout downtown. A two-mile walk begins at the perimeter of Bingham Park, proceeding beside Lackawaxen River through the Riverside Park Natural Area, and continuing past the historic buildings and shops of Church Street and Main Ave. For more info about Hawley's walking tours, you can call (570) 226-3191.
Located at 8 Silk Mill Drive in Hawley is The Silk Mill, a popular lifestyle center. The original Silk Mill facility was built by the Dexter, Lambert & Company in 1880 and operated as a silk mill from 1880 until 1956 - the first large-scale silk factory in northeastern PA. Although its days as a silk mill are long gone, The Silk Mill continues to benefit the Hawley region as a vibrant lifestyle center and an important regional economic and historic resource to the northeastern PA region. The Silk Mill includes a specialty market & bakery, coffee house, a 4th generation furniture store, several boutiques, a fitness center, art galleries, a bicycle shop, planned special events, and more.
Antique shopping in Hawley won't disappoint, with 6 charming antique shopping venues to explore. You won't want to miss the Hawley Antique Exchange, located on Bellemonte Avenue; Barbara's Books and Antiques, located on Texas Palmyra Hwy; Miss Elly's Antiques and Such, located on Chruch street; Timely Treasures, located in the original hydroelectric power plant on the Paupack River; The Loft Antiques, located on Route 590; and Castle Antiques and Reproductions, located on Welwood Avenue.
The Dorflinger-Suydam Wildlife Sanctuary, located at Long Ridge Road in White Mills, PA features a nearly 600-acre sanctuary and is home to the Dorflinger Glass Museum. Since 1980, the nearly 600-acre grounds of the Dorflinger-Suydam Wildlife Sanctuary have preserved the natural beauty and wildlife of northeastern PA. he Dorflinger-Suydam Wildlife Sanctuary is dedicated to the preservation of woodlands and open spaces. The museum displays more than 900 pieces of cut crystal and recognized for having the largest display of Dorflinger glass in the country.
Lacawac Sanctuary & Field Station, located at 94 Sanctuary Road in Lake Ariel, PA is a mix between an environmental education center, nature center, and biological field station. Visitors have the opportunity for outdoor education and exposure to diverse habitats including wetlands, open fields, forests, and lakes. Lacawac overs over 8 miles of hiking trails free of charge from dawn to dusk year-round.
Alicia Kowalik, REALTOR® - Serving Hawley PA Real Estate & the Surrounding Lake Wallenpaupack Area - Call Today! (570) 470-5076
The Honesdale Fire Museum is located at the corner of Park and Main in the Protection Engine Company No. 3 station at Main and Park Streets in Honesdale, PA. The museum collection centers around the 1874 Silsby steamer no. 483, which was fully restored several years ago and in fully operable condition. Displays include early fire prints, photographs, helmets, speaking trumpets and other early fire memorabilia.
Harmony Presents, located at 209 Main Avenue in Hawley, PA, showcases emerging and established performing artists in the renovated Boiler Room of the Hawley Silk Mill that overlooks Wallenpaupack High Falls. Shows often feature up and coming jazz, folk, world, classical and rock musicians from around the country as well as theater and other cultural events. The Sculpted Ice Works Factory Tour & Natural Ice Harvest Museum is located at 311 Purdytown Turnpike in Lakeville, PA. Natural lake ice was once a booming industry in the Poconos. Visitors can take a trip back in time, before indoor refrigeration, to see how ice was harvested in the region. You can experience how clear ice is manufactured today and learn how ice sculptures are made in the Sculpted Ice Works Factory Tour. Open daily in the summer. http://www.sculptediceworks.com/our-services.html
The Stourbridge Line located at 812 Main Street Honesdale, PA, is operated by the Delaware Lackawaxen & Stourbridge Railroad Company The Stourbridge Line offers twenty-five miles of historic railroad excursions winding through Northeastern PA along the Lackawaxen River Valley. The Stourbridge Line offers a seasonal schedule with weekday and weekend service as well as community-related event trains from Memorial Day through the Fall Foliage and Christmas Season. You can take the train from Hawley Station, which departs across from the Post Office on Main Street.
Dedicated to keeping the history of the Lake Wallenpaupack area accessible, the Wallenpaupack Historical Society operates the Williams House as a museum and has artifacts and pictures on display at the PPL Wallenpaupack Environmental Learning Center and the Palmyra Township (Pike) building. The Wallenpaupack Historical Society is located at 103 Manor Woods Court in Paupack, PA.
Claws N Paws Wild Animal Park, located at 1475 Ledgedale Road in Lake Ariel, features over 120 exotic species of animals. Visitors enjoy animal shows, feeding the giraffe and lory parrots, a petting zoo, Turtle Town, and the Dinosaur Outpost with fossil hunts, Dino Dig, and interactive fun and play. Kids of all ages will also enjoy the Carousel Water & Fun Park, located at 1018 Beach Lake Highway in Beach Lake featuring go-karts, bumper boats, mini-golf, kiddie cars, water slides, wading pool, kiddie slides, and more. In addition, Costas Family Fun Park, located at 2111 Route 6 in Hawley, features bumper boats, go-karts, miniature golf, water slides, laser tag, a golf driving range, batting cages, video games, dining, and more.
Located in nearby Lackawaxen, Ski Big Bear is a popular ski area for families. Ski Big Bear is owned by the property owners of Masthope Mountain Community and features 18 trails, 6 lifts, a terrain park, and 100% snowmaking. The mountain has something for everyone with a near equal amount of beginner, intermediate and advanced terrain for skiing and snowboarding. Snow tubing is also available on weekends and holidays. A school and a rental shop are also available on-site.
For a directory of Downtown Hawley, PA businesses including places to stay, play, dine, shop, and services offered, please visit the Downtown Hawley Partnership website. Also, be sure to check out The Best Lake Wallenpaupack Area Places to Stay - By A Local REALTOR®.
Alicia Kowalik, REALTOR® - Serving Hawley PA Real Estate & the Surrounding Lake Wallenpaupack Area - Call Today! (570) 470-5076
Hawley PA Homes for Sale and Real Estate
Under $200,000
$200,000 to $300,000
$300,000 to $400,000
$400,000 to $500,000
$500,000 to $600,000
$600,000 to $700,000
Luxury Homes
The Lake Wallenpaupack region of the Pocono Mountains has so much to offer. Indoor activities, outdoor attractions, natural beauty, shopping, dining and so much more! If you are interested in purchasing Hawley PA Real Estate or Lake Wallenpaupack PA real estate, please give Alicia Kowalik, REALTOR® a call. Alicia will be more than happy to assist you in finding the best communities to live in and the ideal home that's just right for you!
New listings frequently come on the market - Don't Miss Out!

Click on the image to receive new listings delivered right to your email!
Alicia Kowalik, REALTOR® provides exceptional, personalized service and will work relentlessly to ensure that your home buying experience is a positive and rewarding one. With uncompromising standards of integrity, honesty, and service, Alicia will give you the assurance that your home transaction will be completed promptly, professionally and ethically.
Please give Alicia Kowalik, Hawley PA real estate agent, a call today at (570) 470-5076. You'll be glad you did!
Alicia Kowalik, REALTOR®
Lakeview Realty Inc.
Wallenpaupack Realty
2449 Route 6
Hawley, PA 18428
Direct: (570) 470-5076