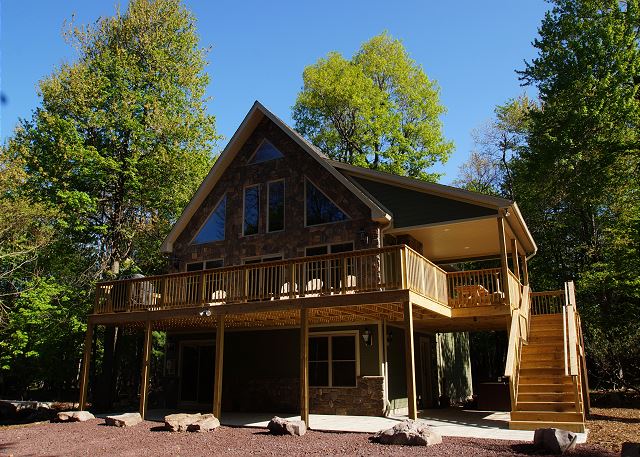 Welcome to Lakeville PA homes for sale and lifestyle! A village in Paupack Township, Wayne County, PA, Lakeville is situated along the western shores of beautiful Lake Wallenpaupack. Nearby communities include Hawley, Lake Ariel, Greentown, and Tafton, PA. Lakeville can be accessed by PA Route 590, about 8 miles east of Hamlin, and about 7 miles west of Hawley, both on Route 590.
Lakeville is home to several popular residential/recreational communities offering a variety of homes in a wide range of architectural styles, sizes, and price points. Communities in Lakeville include Capri Estates, Briar Hill, Rockledge, Boulder Point, Paradise Point, Sandy Shore, Cove Point Club, and Woodland Hills. The Zip code for Lakeville PA homes for sale is 18438.
Lakeville PA Homes for Sale
Under $200,000
$200,000 to $300,000
$300,000 to $400,000
$400,000 to $500,000
$500,000 to $600,000
$600,000 to $700,000
Luxury Homes
Capri Estates is a private, lakefront community located on North Lake Shore Drive on Lake Wallenpaupack in Lakeville. Capri Estates is situated between the communities of Boulder Point and Sandy Shore. The community includes around 150 properties and 57 homes. Residents of Capri Estates have access to local hiking, fishing, skiing, and horseback riding nearby. Read more...

Briar Hill is located on the south side of Martin's Cove, Lake Wallenpaupack's largest cove.The community is comprised of 224 properties, approximately 135 homes including 76 lakefront homes. Amenities include 70 dock slips for residents, ATV trails, and a central water system. Most of the properties have 75' lake frontage. The Summit features homes high over the lake offering spectacular lake views. Read more...

Rockledge is one of the oldest and most prestigious residential enclaves on Lake Wallenpaupack. The popular lakefront community is located between Cove Point Club and Boulder Point in Lakeville. Rockledge has a Dock & Swim Club with a docking facility that can moor up to 75 boats. The Swim Club has a separate beach, protected swim area, pier and floating swim platform, and large children's sandbox. Read more...

Boulder Point is a desirable residential lakefront subdivision on Lake Wallenpaupack in Lakeville. Rockledge is situated to the east of Boulder Point and Capri Estates is located to the west. All homes in Boulder Point are located on Boulder Point Road and feature stunning views overlooking Lake Wallenpaupack. Read more...


Sandy Shore

is a private recreational/residential community of single-family homes located on the north side of Lake Wallenpaupack on Lake Shore Drive. Situated between the enclaves of Capri Estates and Woodland Hills, Sandy Shore is comprised of 242 properties and 185 homes including 34 lakefronts with stunning lake views looking east and west. Read more...


Cove Point Club

is a beautiful Lake Wallenpaupack lakefront residential community located on Lake Shore Drive between Sunny Point and Rockledge in Lakeville. The exclusive community of Cove Point Club is comprised of around 104 properties and offers a beach, tennis courts, 104 boat slips, a central water system, and a health center. Read more...

Paradise Point is an established, quiet, and woodsy Lakeville community situated behind Caesar's Cove Haven Resort. Paradise Point is comprised of 190 properties including 98 single-family homes and 44 lakefront homes. All homes in the community have access to Lake Wallenpaupack.The community offers a water system and 66 boat slips for homeowners. Read more...


Woodland Hills

is a lake rights and lakefront community located on Lake Shore Drive at Crane Road in Lakeville. Situated on the north side of Lake Wallenpaupack, Woodland Hills offers year-round vacation and permanent residences. The community borders Caesar's Cove Haven to the west and Sandy Shore to the east. Woodland Hills is comprised of 200 properties, 135 homes, and 15 lakefront homes. Read more...
Lakeville Pa homes for sale are served by the Wallenpaupack Area School District. Popular restaurants in Lakeville include Rolly's Pizza & Grill, Crazy Fingers Grub & Grog, and Mike's Pizzeria & Restaurant. For a list of grocery stores in or near Lakeville, click here.
The nearest hospital is Wayne Memorial Hospital, a non-profit, community-controlled hospital based in Honesdale. The hospital has 98 acute-care beds and an additional 14 beds dedicated to inpatient rehabilitation. The closest major airport to Lakesville is Wilkes-Barre/Scranton International Airport, located approximately 31 miles away in Scranton.
Lake Wallenpaupack PA
Lake Wallenpaupack is a massive man-made, freshwater lake encompassing 52 miles of uninterrupted shoreline located in the Poconos of Northeastern Pennsylvania. The scenic lake is 13 miles long and has in excess of 5,700 acres of surface water. Created in 1926 by the Pennsylvania Power & Light Company (PPL for short) for hydroelectric purposes as well as flood control, Lake Wallenpaupack is known for being one of the most popular recreational destinations in the Pocono Mountains.

Lake Wallenpaupack has six recreation areas featuring hundreds of acres of forest lands, wildlife, walking trails, campsites and boat slips. Lake area outfitters also offer kayaks, water skiing, parasailing, wakeboarding, jet skies and boats for your enjoyment. Culture and history abound in the local museums, galleries, antique stores, interesting landmarks and historical buildings that grace the lake area. The charming villages that surround the lake also provide old-fashioned seasonal events such as fairs, antique shows, art exhibits, outdoor concerts, parades and festivals for people of all ages to enjoy! Read more about Lake Wallenpaupack real estate, lifestyle, and the beautiful surrounding area...
Alicia Kowalik, REALTOR® - Lakeville Homes for Sale & Real Estate - Call Today! (570) 470-5076
If you're interested in buying property in the Lake Wallenpaupack area, we will be more than happy to assist you in finding the ideal home or homesite. And in some cases, we can make you aware of properties that are not on the market yet and arrange private showings.
Our mission is to provide exceptional, personalized service and we will work relentlessly to ensure that your home buying or selling experience is a positive and rewarding one. With uncompromising standards of integrity, honesty, and service, we'll give you the assurance that your home transaction will be completed promptly, professionally and ethically.
Please give Alicia Kowalik, Lake Wallenpaupack Area REALTOR®, a call today at (570) 470-5076. You'll be glad you did!
Alicia Kowalik, REALTOR®
Lakeview Realty Inc.
Wallenpaupack Realty
2449 Route 6
Hawley, PA 18428