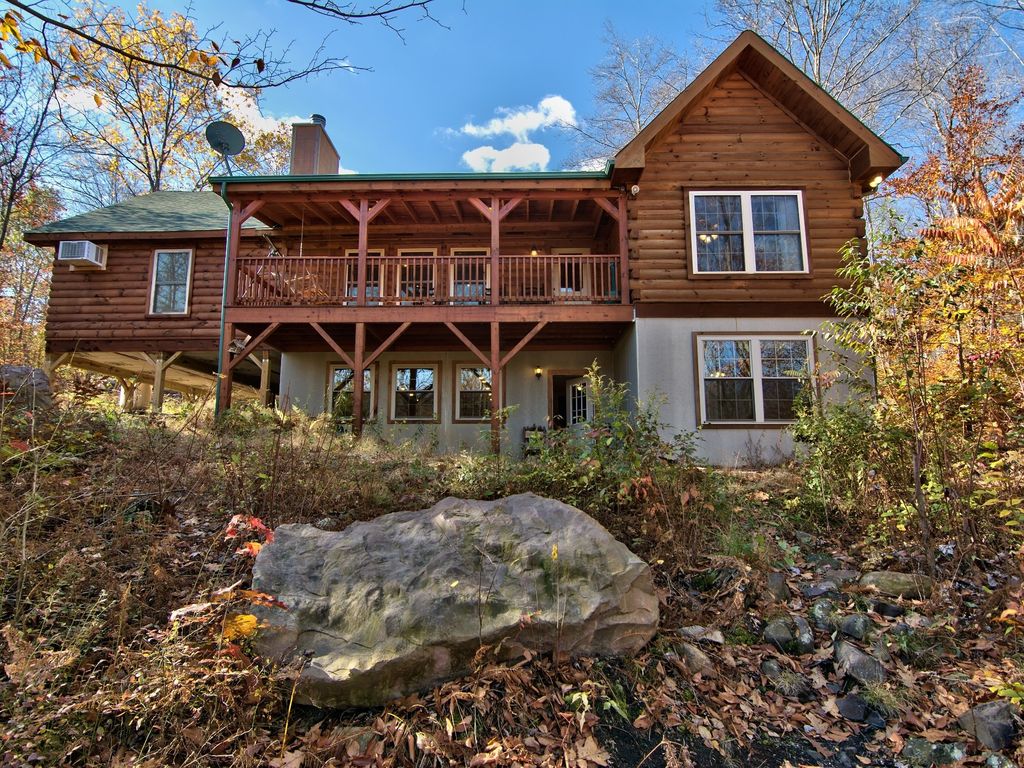 Milford PA Homes for Sale & Real Estate
Welcome to Milford PA homes for sale and real estate! Offering a rich history, a broad range of recreational activities and beautiful surroundings, the Borough of Milford is the county seat of Pike County, PA, located on the upper Delaware River. Milford was founded in 1796 after the American Revolutionary War as a U.S. settlement on the Delaware River by Judge John Biddis, one of Pennsylvania's first four circuit judges. He named the settlement "Milford" after his ancestral home in Wales. Milford is currently home to approximately 1,050 residents.
At the intersection of Broad and High is a public square, just as there is at Broad and Market in Philadelphia, and most of Milford's official buildings are located there. Milford boasts a large number of historically significant buildings, many of which were constructed in the nineteenth century and early twentieth centuries. During this time, Milford was known as a summer resort and trading center. The historic community's commercial life was associated with recreation, entertainment, government, education, and tourism.
Milford PA Homes for Sale & Real Estate
Under $200,000
$200,000 to $300,000
$300,000 to $400,000
$400,000 to $500,000
$500,000 to $600,000
$600,000 to $700,000
Luxury Homes
Milford is home to several residential communities offering a variety of homes in a wide range of architectural styles, sizes, and price points. Popular communities in Milford include Conashaugh Lakes, Pocono Mountain Woodland Lakes, Gold Key Lake Community, and Sunrise Lakes along with several others. The Zip code for Milford PA homes for sale is 18337.
Milford PA Homes for Sale & Real Estate - Call Alicia Kowalik, REALTOR® at (570) 470-5076 Today!
The Milford Historic District is comprised of a variety of Late Victorian architecture, as well as Mid-19th Century Revival, and Late 19th and 20th Century Revivals. Of the district's 655 buildings, 400 of them have been deemed historically significant. The Columns Museum in Milford is operated by The Pike County Historical Society which preserves the heritage, artifacts, and cultural objects used throughout the history of Pike County. In its collection is the "Lincoln Flag," which was draped on President Abraham Lincoln's booth at Ford's Theatre the night he was assassinated.
Jervis Gordon Grist Mill Historic District, Hotel Fauchere and Annex, Metz Ice Plant, and the Pike County Courthouse in Milford are listed on the National Register of Historic Places. The Hotel Fauchère, established in 1852, has hosted a number of notable guests over the years including Rudolph Valentino, Sarah Bernhardt, Andrew Carnegie, Mae West, Charlie Chaplin, Babe Ruth, Robert Frost, Presidents Theodore and Franklin Delano Roosevelt, John F. Kennedy, and many others. The hotel was restored to its original splendor in 2006.
The borough has two large parks, both of which include a ball field, playground equipment, a basketball court, and large grass areas. There are also numerous small parks including a skate park and memorial parks located throughout Milford. West Ann Memorial Park is home to many festivals throughout the year. Other parks include East Catherine Street Ball Field, Skate Board Park, Biddis Park, Soldiers and Sailors Park, Kennedy Triangle Park, Ethel Barckley Memorial Park, Georgiana P. Kiger Park, Jewelers Square Park, and Remembrance Park.
Several camps operated by the Jewish organization NJY Camps are also located in Milford including Camp Nah-Jee-Wah, Cedar Lake Camp, and Teen Age Camp.
Popular annual events in Milford include the Black Bear Film Festival and the Milford Music Festival. The Black Bear Film Festival is an annual independent film festival, which takes place the weekend after Columbus Day in October primarily at the historic Milford Theater. The Milford Music Festival takes place each Summer in June. Other popular events in Milford include Septemberfest, Share The Harvest, the annual Tree Lighting, and more.
Milford is also home to Pike County Arts and Crafts, the oldest and largest arts education organization in northeastern PA, which was chosen by the Pennsylvania Council on the Arts as the winner of the 2007 Pennsylvania State "Creative Community Award." Pike County Arts and Crafts has hosted an annual art show each July in Borough Hall since 1950.
Milford is part of the Delaware Valley School District. The district operates one high school, 2 middle schools, and 4 Elementary Schools, and provides educational services to approximately 5,700 students. Schools serving Milford PA real estate include Dingman-Delaware Elementary School, Dingman-Delaware Middle School, Delaware Valley High School.
The Pike County Library has its main branch in Milford located on East Harford Street. Healthcare facilities located in or nearest to Milford include Milford Health & Wellness, Milford Urgent Care, Wayne Memorial Hosptial, and St. Lukes's Hosptial - Monroe Campus.
Read more about Milford PA real estate & lifestyle ...
Milford PA Homes for Sale & Real Estate - Call Alicia Kowalik, REALTOR® at (570) 470-5076 Today!
If you're interested in buying property in Milford PA or the surrounding area, we will be more than happy to assist you in finding the ideal home or homesite. And in some cases, we can make you aware of properties that are not on the market yet and arrange private showings.
Our mission is to provide exceptional, personalized service and we will work relentlessly to ensure that your home buying or selling experience is a positive and rewarding one. With uncompromising standards of integrity, honesty, and service, we'll give you the assurance that your home transaction will be completed promptly, professionally and ethically.
Please give Alicia Kowalik, Lake Wallenpaupack Area REALTOR®, a call today at (570) 470-5076. You'll be glad you did!
Alicia Kowalik, REALTOR®
Lakeview Realty Inc.
Wallenpaupack Realty
2449 Route 6
Hawley, PA 18428