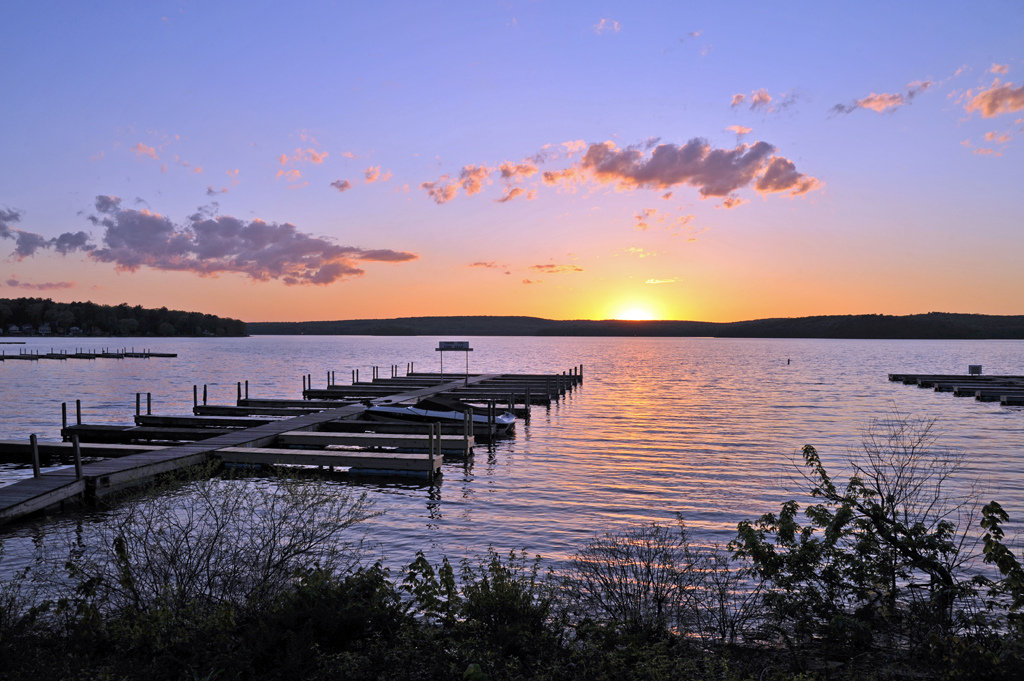 Search Lake Wallenpaupack PA Area Homes for Sale & Real Estate
As an experienced Lake Wallenpaupack real estate agent and local resident, I'm often asked by my clients to recommend to them the best places to stay in the area. Typically, they want to get away from the hustle and bustle of daily life for a few days and enjoy the natural beauty of the Pocono Mountains while looking at Lake Wallenpaupack PA real estate properties.
Alicia Kowalik, Lake Wallenpaupack Area Real Estate Agent - Call Today! (570) 470-5076
Lake Wallenpaupack and the surrounding area accommodations are as varied as the Poconos landscape. There are, however, several personal favorites of mine that I like to recommend to my clients so they feel at home and relaxed and can thoroughly enjoy their stay. The following accommodations include a selection of historic and charming boutique hotels, motels, lodges and Inns, each offering their own unique character, personality, and amenities to make your stay in the Lake Wallenpaupack area of the Poconos a memorable one:
Ledges Hotel
The Ledges Hotel is a historic luxury hotel located in Hawley. Originally built in 1890 for the John S. O'Connor Glass Factory, the Federal-style, boutique hotel offers modern conveniences without sparing its aesthetic, historic integrity and rustic charm. Blending contemporary sustainable design with the natural landscape, the unique Ledges Hotel features a variety of guestrooms and suites as well as luxurious amenities and gracious service. The Hotel is also home to "Glass - wine.bar.kitchen at Ledges," a popular restaurant offering exceptional food and stunning views in the panoramic dining room and deck. The bar at "Glass" features an "All-American Wine and Beer List" with emphasis on American Spirits. The Ledges Hotel phone number is 570.226.1337
Lucan's Farm Resort
Lucan's Farm Resort is located in Hawley, about a 12-minute drive to Lake Wallenpaupack. Breakfast and dinner are both available at the Lukans Farm Resort. They cook delicious meals right from their garden and take care of their guests like family. Family owned and operated through multiple generations, Lukan's Farm Resort is still providing guests with all the comforts of home with their family-style meals and personalized service. Amenities include a large heated outdoor swimming pool, and lighted recreation area with a basketball court, tennis court, sand volleyball court, stocked fishing ponds (catch and release, hiking trails, farm animals and hayrides, miniature golf, horseshoes, ping pong, shuffle-board, children's playground, sports field, recreation room, and more. Lucan's Farm Resort phone number is 570.226.4574.
Silver Birches Resort

Silver Birches Resort, located in Hawley, is home to a collection of thirteen vintage structures with varied histories dating back to the 1920s. The choices for lodging include guest rooms, cottages, and houses. All of the buildings face nearly 700 ft. of Lake Wallenpaupack shoreline offering spectacular views of the lake. Many have porches, decks, balconies, fireplaces and whirlpool tubs. Onsite amenities include an outdoor pool, game room, and recreation center. In season, guests can enjoy the heated outdoor swimming pool and complimentary use of paddle boats, rowboats and canoes. Silver Birches is also home to The Dock on Wallenpaupack, a full-service restaurant featuring a combination of lake inspired foods and culinary twists on vintage classic dishes, (e.g., soups, snacks, salads, sandwiches, and light entrees). The phone number for the Silver Birches establishment is 570.226.4388.
East Shore Lodging
East Shore Lodging is a boutique motel style lodge offering spacious, modern rooms and suites with a relaxing atmosphere, just steps away from Lake Wallenpaupack. Guest rooms and suites are uniquely decorated and come with microwaves, refrigerators, private bathrooms, iron/ironing boards, hairdryers, flat screen cable television, free WiFi and a light complimentary continental breakfast. Amenities include a 1.5-mile walking trail, beach, boat slips, and boat rentals. The motel also has a tour boat and gift shop. The boat tour departs across the street and is in operation from May until the middle of October. Located within five miles is the Costas Family Fun Park andGresham's Ice Cream Shoppe is right next door. The phone number for East Shore Lodging is 570.226.3293.
Tuck-em Inn Motel
The Tuck-em Inn is a moderately priced, family-owned and operated motel (under new ownership), located in Hawley. The motel offers clean comfortable rooms in a family-friendly atmosphere. All of the rooms are non-smoking and some have Jacuzzi's for a romantic getaway or efficiencies for longer stays. Daily, weekly or monthly stays are available. Amenities include exercise/fitness facilities and an indoor heated swimming pool. On-site Activities include fishing and hiking. For those on a budget, this motel is a great value. The phone number for Tuck-em Inn Motel is 570.226.6460.
Gresham's Lake View Motel
Family-owned and operated since 1952, Gresham's Lake View Motel is located on Route 6 in Hawley. All of the quaint rooms at the two-story motel have patios facing Lake Wallenpaupack, providing scenic views of the sunset over the lake. The motel is several minutes from boat launches on Lake Wallenpaupack and is a 20-minute drive from two golf courses. Located on the property is Gresham's Chop House, which provides spectacular views of the lake, and serves steaks, seafood, and Italian specialties. Diners can also dock their boats next to the restaurant. The phone number for Gresham's Lake View Motel is 570.226.4621.
Settlers Inn
The Settlers Inn is an authentic 1920′s Arts & Crafts Lodge located in Hawley. The historic hotel has all of the comforts of a B&B along with a full-service farm-to-table restaurant and tavern. Settlers Inn is situated on six acres and surrounded by beautiful gardens and the Lackawaxen River and woodlands that contain part of the old Delaware & Hudson Canal. The Inn offers 23 hotel guestrooms and most rooms feature fireplaces and Jacuzzi tubs. Guests enjoy complimentary day passes to Lake Region Fitness located in the Hawley Silk Mill as well as discounted access to Woodloch Springs Health Club (Jacuzzi, sauna, fitness room and an indoor swimming pool). Across the street, Hawley's Bingham Park offers tennis courts, a playground, and a walking trail. Settlers Inn is also home to the award-winning Our Pocono Restaurant. The popular restaurant features seasonal menus and innovative regional cuisine prepared with the freshest and healthiest local ingredients. The phone number for The Settlers Inn is 570.226.2993.
The Hotel Belvidere
The Hotel Belvidere is a charming, historic landmark located on Mainstreet in downtown Hawley. Husband and wife owned and operated, guests are given warm and personalized service. When you walk in the door, they know you by name and greet you with a smile. The hotel features 12 fully-appointed guest rooms with free WiFi, flat-screen TVs with cable channels, and hair dryers. Hotel Belvidere is within a 15-minute walk of Ritz Company Playhouse and Harmony Presents. Dorflinger Glass Museum and Costa's Family Fun Park are also within 6 miles. The Ridge Italian Grille & Bar at The Belvidere Hotel features delicious, authentic Italian cuisine and grilled specialty items, and the lounge is the perfect place to unwind. The phone number for Hotel Belvidere is 570-226-2600.
Alicia Kowalik, Lake Wallenpaupack Area Real Estate Agent - Call Today! (570) 470-5076
The Lake Wallenpaupack region of the Pocono Mountains has so much to offer. Indoor activities, outdoor attractions, natural beauty, shopping, dining and so much more! If you are interested in purchasing Lake Wallenpaupack PA real estate, please give Alicia Kowalik, REALTOR® a call. She will be more than happy to assist you in finding the best communities to live in and the ideal home that's just right for you!
New listings frequently come on the market - Don't Miss Out!

Click on the image to receive new listings delivered right to your email!
Lake Wallenpaupack PA Area Homes for Sale & Real Estate
Alicia Kowalik, REALTOR® provides exceptional, personalized service and will work relentlessly to ensure that your home buying experience is a positive and rewarding one. With uncompromising standards of integrity, honesty, and service, Alicia will give you the assurance that your home transaction will be completed promptly, professionally and ethically.
Please give Alicia Kowalik, Lake Wallenpaupack Area real estate agent, a call today at (570) 470-5076. You'll be glad you did!
Alicia Kowalik, REALTOR®
Lakeview Realty Inc.
Wallenpaupack Realty
2449 Route 6
Hawley, PA 18428
Direct: (570) 470-5076